Who needs PVC light blocking strips?
While inside mounted roller shades or zebra blinds do have a lot of advantages, especially when it comes to maintaining the materials and keeping them clean, they do come with a minor problem. Due to the valance being sightly wider than the fabric, which does have technical reasons, there will be a small gap between window and shade. Through this gap light shades can and will enter your room. So everyone in need of sunlight blocking window cover might need to consider window blockers.
How do Light Blockers work?
How to block sunlight from window? The answer to this is extremely simple. Keego Blinds PVC window blockers can be placed with adhesive tape on the inside of your window frame. Due to their shape sun blockers for windows will be blocking the part, where the shades leave some space. However the window UV blocker will still letting the roller shades move up and down without any problem.
In which scenario are they needed?
There are rooms in which we do want to block 100% of incoming light. In most cases this will be the bedroom. Especially with windows facing east. While it might be a good idea to choose a window treatment that will block everything by itself, this is not always possible and window blockers are in need. Maybe the shades have been pre-installed before moving in. Maybe Outside mount shades are no option. If one of these reasons might apply to you, installing a window sun blocker can be a easy and quick solution.
How to use them?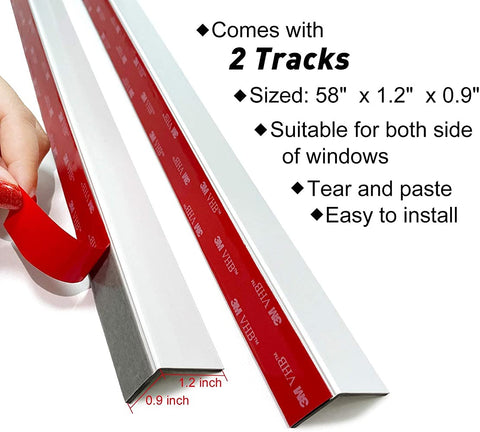 How to block sunlight from window in seconds? The "L" shape of our PVC light blockers makes sure you can install them in no time.  To make sure you can stick them to your window frame, we will deliver the window blockers with double sided adhesive tape. Just put the tape where you need it and stick the window sun blocker on to it. Done! Make sure to place the window light blockers so, that it will not affect the roller shade moving up and down.
Tipp: You can also use Velcro tape. This way you can remove the window blockers anytime you want. This might be a good option for narrow windows.
While your already here
Similar articles with further information:
Shangri La Window Shades or Zebra Blinds