What are Roller Shades?
Construction
Before we go into detail. What are roller shades and how are they made?
Rolling Blinds for windows are gaining more and more on popularity and this is due to a few simple and understandable reasons. The first being the simplicity of its construction. It is basically a sheet of fabric that can be roller up and down. No slates, and no cellular fabric making it difficult. Roller shades for windows are easy to build, easy to install and to use.
Fabric
By far the most used fabric for roller shades is Polyester due to its good resistance and lightweight features. Polyester is available in a broad variety of options. Colors, recycled, thin, thick, … you name it. You just need to think about what color roller shades should I get. In addition some are made of Vinyl which can be cleaned with ease.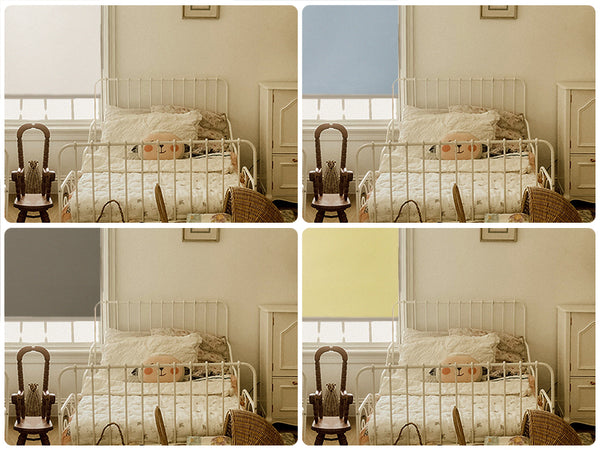 Valance
What are roller shades without valance? Nothing! That being said, due to their light weight roller shades work really good as no drill shades. This means there are no tools needed for installation. Just open the bag, have fun with the bubble wrap and hang the roller shades. Takes just a minute.
If you go for a valance with screws, there is the option for a metal valance which will give your blinds an even more luxurious feeling. Please have in mind that metal valances are much heavier that plastic ones, making it hard to answer what are the best roller shades.
Fashion
Due to said simplicity it is easy making these kind of window treatments available in different shades, colors and materials for a reasonable price. There are plenty of different options for Roller shades. What are roller shades bought for should also be a question to consider.
Blackout
Blackout materials are either thick, dark fabrics or, which is most of the case, coated on the outside. But what do roller shades look like from the outside? Well, usually plain white. However this coating will not be visible from the inside and make sure you can use any color fabric you want on the inside while making sure you block 100% of harmful UV light. What are the best blackout roller shades? Have a look at Keego Blinds options.
Light Filtering
Light filtering fabrics are all those fabrics not blocking UV completely. Meaning rolling blinds will offer light dimming but not light blocking. These fabrics work good for dining rooms, patios, and even kitchens but are not made for bedrooms. So you need to consider what are rolling blinds bought for.
Bamboo
For a more natural look and of course economic choice, as Bamboo is one of the fastest growing resource, rolling shades for windows out of this material can be a good choice. However they mostly do not come a blackout options. But they still look nice on a patio.
Waterproof
Waterproof fabric can have several advantages. The most obvious one not letting any water come through. Especially for outside mount roller shades or outdoor roller blinds, this can be quite a useful thing. On the other hand it might help to keep them clean, making it a good choice for kitchen or children rooms. Not to mention bathrooms.
Price
Price wise roller shades are the cheapest option you will get as window treatments, however this must not mean that they are bad quality. What are roller shades meant to be in your situation? Cheap option for a rented flat? Colorful choice for a modern house? You decide.
While your already here
Similar articles with further information:
Shangri La Window Shades or Zebra Blinds