Roller Shade

Mechanism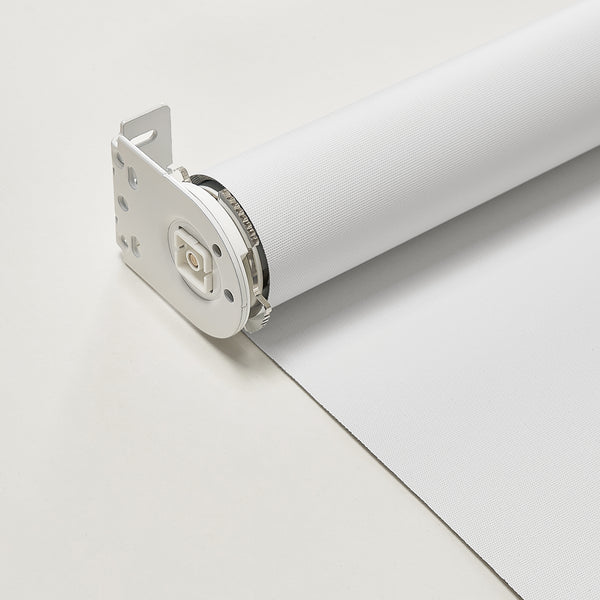 As a matter of fact, roller shades are pretty simple mechanics. Picture roller blinds as as a bigger and more sturdy toilet paper roll. That being said there are three different kinds of them and how do roller shades work comes mostly down to the mechanics they use for lifting. There are the Classic corded roller shades, spring roller shades and most comfortable, the motorized roller shades. Both options come in classic or as easy installation blinds. However this does not change anything on how they operate.
How do roller blinds work: C

orded

 
Roller shades, compared to shutters do work quite simple. The fabric will simply get rolled over a tube inside the roller shade mechanism on the top. The only difference is how the fabric get's rolled over the tube. For the corded ones, at the side of the tube you will find something like a clutch. Said cord is connected and hold in place by an plastic cover and while pulling the cord in one direction, the tube will turn back or forth moving the rolled up fabric down or up. So the answer to how do roller shades work is pretty simple mechanics.
How do cordless shades work

 
Seeing how easy it is to lower roller shades, we also saw that the cord is crucial to this simplicity. So how do cordless shades work then? Cordless roller shades however work a bit different but not much more complicated. There still is a tube that rolls up the fabric. However a simple spring on top keeps the shade in position. Pull it down or up just with your hands to whatever position you need. The spring will make sure the shade stays in position. Repairing this roller shade spring mechanism is not as complicated as it sounds.
How do roller blinds work: Motorized
The third roller shade mechanism we need to talk about are motorized shades. Instead of a clutch with cord on the side, Keego Blinds installed an electric motor that is placed inside the tube. From there the motor including cable or battery will be connected stable on the side of the tube. With the push of a button said motor will rotate the tube whilst moving the fabric up and down from the side of the tube.
Fabric
Light

f

iltering
Light filtering fabric is made out of high quality polyester which makes it light weight, durable and easy to clean. Meaning it can be rolled up and down years and years without crumbling or developing other issues. In addition we are using a type of polyester that is waterproof, making roller shades a perfect choice for kitchen, patios or even bathrooms. Remember that the fabric is not fully mold proof, so please do not use them as shower curtains.
Blackout
Blackout fabric however is coated one sided with white color. This one sided coating will make sure that blackout roller shades do not let any harmful UV rays through. In addition the white coating will reflect sun and thus provide a little bit of insulation to your windows. This means the white side should face the outer side of the roller shades to make sure you can enjoy chosen color on your window treatments as well as the insulating features.
Installation
No Drill
If we want to install anything other than no tool shades, we must drill holes on one or on both sides of the windows so that we can use screws to fix the blinds and fixate them.
The installation method of easy install blinds no tools is not the same. If you don not want to drill holes in the wall, you will need no drill window shades or blinds which make use of tension. An extending rod fixates within the roller shade mechanism of our easy installation blinds, in between your window frame.
Drill
Roller Shades can also come with a more decorative valance. For example a stunning metal valance. Due to its weight, these can only be fitted by using screws. For this you need to drill holes into the wall where the valance should be placed. A fully covered box offers more protection from dirt causing harm to the roller shade spring mechanism. Please have a look at our full instructions for each product.
Conclusion
We hope our explanations helped understanding how do roller shades work and helped you choosing the right option for your window. If there are any open question, feel free to comment or reach out to our customer service.
While your already here
Similar articles with further information:
Shangri La Window Shades or Zebra Blinds