Keego Blinds Hole Drill Guide
Install Blinds DIY
We do not need assist to install new window treatments. We can do it ourselves! Installing blinds is not as difficult as it might seem on the first thought. Except for no tools blinds, you just need to drill a few holes, screw the mounting brackets inside those and finally hang your Keego Blinds! The only part that could be tricky or causing trouble for unexperienced, is the hole drilling. So here a few tips on that.
Drill hole in wooden frame
Drilling holes wood frames is the easiest option in 90% of the cases. Usually the drill machine does not need much power and can either be old cheap or basically "whatever is available" Just ask your neighbors or family and friends. The only thing to mention is, that you should use a hole drill bit for wood, with a sting on top. If you gathered the material, just ask someone to hold the blinds and mounting brackets in position, mark the right area with a marker through the holes in the valance and take down the valance so you can start the whole hole drilling. 
How to drill a hole in concrete
Drilling holes in concrete walls or window frames can be much more complicated. You will need a much stronger hammer drill machine which is pricey but can usually be lend to you from tool stores. So there is no need to buy one. Especially older concrete might be quite hard, so you need a good quality stone/concrete bit as well for concrete hole drilling. Marking the right spot however is the same procedure as it is with wooden frames. The hole drilling just needs more power, from the machine and from yourself. You learn here in more detail how to drill a hole in concrete. If your wall is causing you to much trouble, consider going with no tools blinds.
How to drill holes in tile
Not necessarily due to being such a hard wall, but drilling in to ceramic tiles can be difficult for another reason. If you want to hang up blinds in your bathroom, which in your case comes with a tiled wall, you might be afraid of damaging them. And yes, this could happen. So how to drill a hole in tile? For tiles it is best to use a diamond bit and drill the first few mm fast. This should avoid breaking the tiles. Ceramic tiles can also use carbide bits, but diamond is always a safe bet. Hold your arm steady, to avoid loosening the tile you drill in to.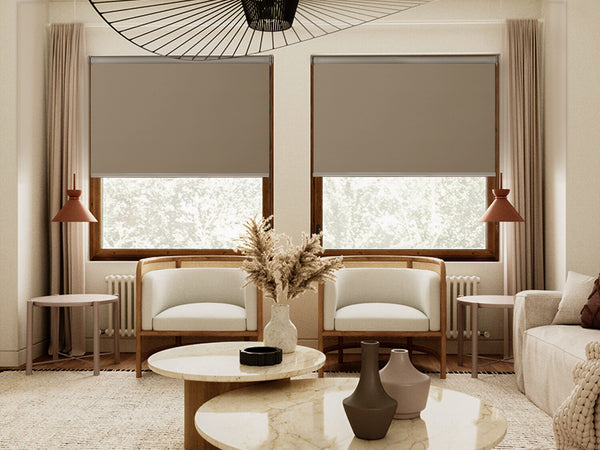 Blinds without drilling holes
If this is all to complicated for you or you simply do not have any access to tools, no tools blinds are a perfect alternative you can just hang your blinds without drilling holes if you choose one of Keego Blinds without screws.
While your already here
Similar articles with further information: