Easy Installation Blinds Choices
Choosing decoration for a new home can be tough. There are so many choices for everything, so it can take us lots of sleepless nights deciding between the benefits of wooden or plastic chairs. Window treatments make no exception. The sheer possibilities you can find on Keego Blinds are huge, so we decided it is time to give you a quick overview on our different window treatments without drilling.
As you might expect from the title, no drill blinds do not need any tools for installation. This will not only make it less expensive and dirty to set up your window covers. Less expensive mainly because there is no need to get a drill and screwdrivers. This is of course redundant, when these tools are already available. Also not needing to drill holes will produce no dust and dirt. But the most important saving will be on your time and nerves. It is a complete different thing to just hang blinds between your window or a whole and time consuming installation.
No Drill Roller Shades
There are no other kinds of window treatments that qualify so much for easy installation blinds as no drill roller shades do. Their easy to install tension rod is set up within minutes or even seconds. Take these Keego window blinds out of their box and block your window DIY in no time. In addition the plain fabric roller does allow us to offer a broad variety of different style of window blinds in this category. The simplicity also allows to use either light filtering or blackout fabric. Corded or cordless usage. No drill roller shades are by far the most practical window covering especially as they can come with waterproof fabric suitable for bathrooms and kitchens.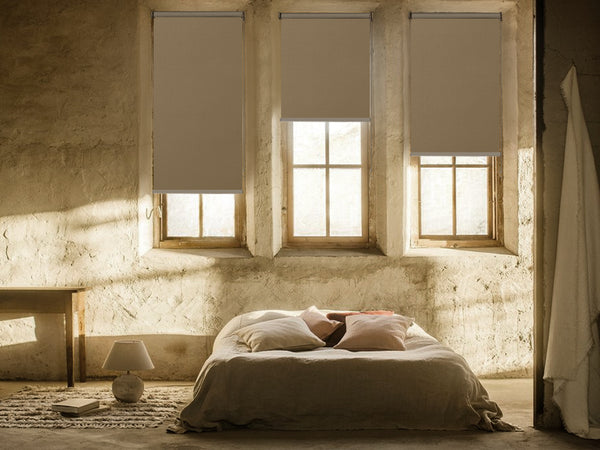 Roller shades are the second one in this list with pretty much a similar experience to our cordless zebra blinds no drill. These easy to install blinds work same as all no drill shades that we offer. A tension rod with rubber ends can be fitted in between window frames. However this works only for inside mounting.
No Drill Zebra Shades
According to our logistics colleague, this is our best selling no drill window treatments. In fact the colleagues at our logistics hub often feel like lions in the Savannah after so many zebras passed them on a daily basis. Keego zebra blinds are as easy to install as other no drill window treatments while offering a broader variety in shading. No drill zebra blinds consist of a "roll" of striped fabric, transparent and light blocking stripes after each other. This allows Keego zebra blinds to fully block light or offer a calming 50% light filtering depending on how you moved the zebra shades. Within all the different types of window treatments, zebra blinds are the ones offering the most variation of shade and decoration value.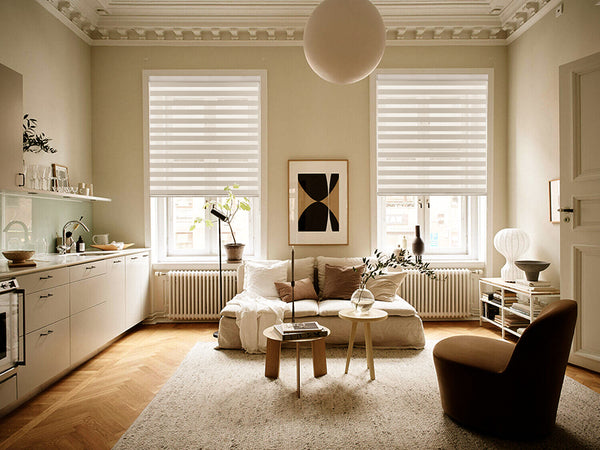 When it comes to the style of blinds, there are a few styles which can be handled easier than others. One of them being Zebra blinds, especially no cord zebra styles in our drill free variant. Installing them is not much different from changing your toilet paper roll. Use tension to place the valance between your window frame, roll down the blind by hand. Done!
No Drill Cellular Shades
Keego blinds different styles of window blinds has a clear winner when it comes to the most technical advanced no drill window treatments. Thanks to their unique honeycomb structure, which keeps air in between to layers of fabric, no drill cellular shades help quite decently with keeping heat inside or outside, depending on the season. The cellular structure gives these easy installation blinds a sophisticated and more luxurious aura, making them them definitely a high class option within our window treatments without drilling field.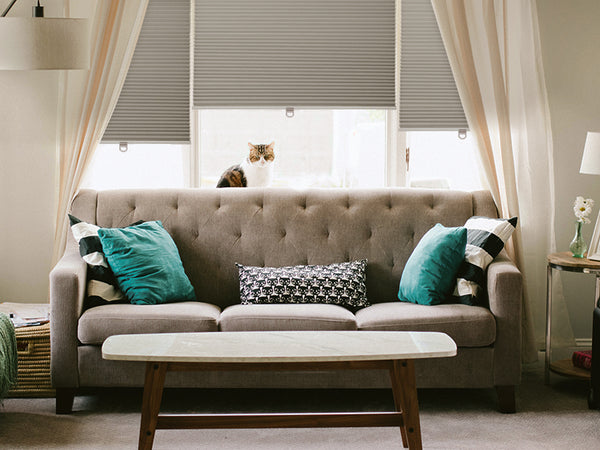 No Drill Shangri-La Sheer Shades
Shangri-La sheer shades are the secret favorite of the Keego Blinds marketing team. Their aesthetics can uplift any rooms interior by at least one step. These easy installation blinds work especially good on larger windows. In fact no drill shangri-la sheer shades work similar as shutter do. Horizontal panels turn vertical and thus offering more or less space for light to come in through these Keego window blinds. To uplift these no drill window treatments from different kinds of window treatments, shangri-la shades come with a more elegant valance as our other options.
Conclusion on different types of window blinds
Although Keego Blinds offers many different styles of window blinds, each one of them comes with different benefits. While all of them being easy installation blinds, no drill roller shades are usually more suitable for smaller windows, like the ones in your kitchen or bathroom. No drill zebra blinds however work well in dining or living rooms that have small to medium sized windows. Shangri-la sheer shades are the window treatment without drilling that is most suitable for larger window fronts or glass sliding doors. And last but not least cellular no drill window treatments work well in places that need extra insulation like a bedroom. So when we chose different types of window blinds, we need to figure as well, which easy installation blinds fit the respective window size and the overall needs of the window covering.
While your already here
Similar articles with further information: