Why do we need to darken our kids room?
Kids and especially small kids need their sleep. Not only at night but also a quality nap is necessary for them. But kids tend to be even more sensitive to noise and light as adults are. Knowing this there can be a lot of influences from the outside affecting you kids sleep routine. Strong moonlight, street lights, neighbors. At day time there is of course the sun. So how to we make sure that your kids room is dark enough to grant a well deserved sleep? Well will show you a few options including room darkening shades for kids and other blackout blinds childrens room.
Importance of Sleep
Sleep restores energy and even more important sleep will give our body the chance to rest and bring all in effect that we learned on that day. If we then consider how much children need to learn every day while growing up, we will realize that there is much more importance and also need to get a good sleep We need to make sure through using kids room darkening shades or other solutions, that our children can get a rest at any given time.
What can we do
There are usually three things that can disturb a good sleep. The first one being noise, the second climate and the third and last one light. Blinds for kids rooms can provide a solution for all three problems in one product. First cellular blinds for kids room come with nice insulating features that can provide just the right amount of an extra layer to cancel out smaller noises, in addition these kids room window shades offer heat regulation. Their strongest feature however is the effective light blocking of room darkening shades for kids.
Blackout Shades
Well, light usually comes through the window meaning that it is probably a good idea to start there. There are different options for blackout blinds kids room that block light from entering the room. Keego Blinds offers many different variations of kids room darkening shades. Kids room shade cellular, roller or zebra are just a few of the variations you can chose from. Whilst a lot of blinds room darkening come with a cord, we do not advise to choose blackout shades with cord. Kids can easily reach the cord and strangle themselves or destroy the blackout shades baby room or kids room.
Make sure you measure exactly and get a custom set of our best blinds for kids room so you can enjoy all benefits of a well rested child.
Colorful Roller Shades
As our children grow older, they want to have a word on their rooms decoration as well. Luckily Keego Blinds for kids rooms come in a huge variation of styles and fabric colors. Roller shades are one of the childrens room blackout blinds that come with a practical approach. These easy to clean and easy to install room darkening shades for kids come in bright or damp colors. We assure your kids favorite color will be available as well.
Roller window shades kids rooms can be a perfect place for your kid to express their creativity as well. Apart from blocking light effectively childrens room blackout blinds can be a easy to access roll up canvas. Give them a pen that can be washed out from fabric and even if not, the kids room shade can be rolled up at daytime hiding their creations and protecting your wall from any permanent artwork.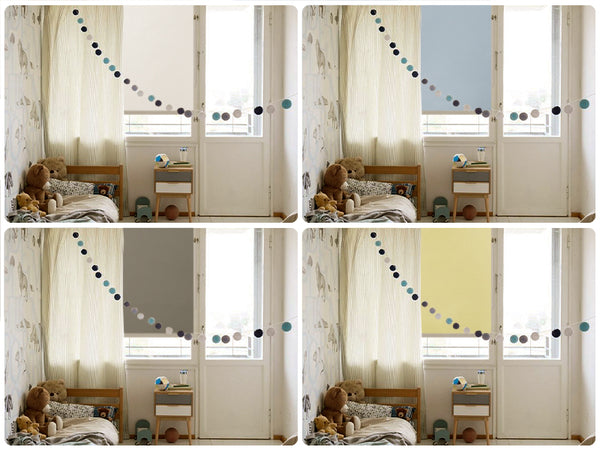 The Alternative - Blackout Curtains
If we stay at the windows there is another option we can choose from. This being curtains. Whilst there are special curtains for kids, we need to see that the fabric is thick enough to block light. Better go with special kids room blackout curtains. However as we said that blackout shades with cord can cause kids to pull on them, curtains can be similar dangerous. Although a curtain is slightly thicker which makes strangling more difficult as with a cord.
Extra tips
If both options room darkening shades kids room or kids room darkening curtains do not provide the wished effect you still can combine different options. Blinds with Curtains on the side. Or window blocker to make sure there is not a single stripe of light coming through. For a quick DIY solution, cut out cardboard and place it between window treatment and window.
While your already here
Similar articles with further information:
Shangri La Window Shades or Zebra Blinds